Caregiver of the Month – December 2018
This month, Care at Home is nominating our amazing support staff as Caregiver of the month! In the Spirit of the Holidays, this Team extended themselves in magical ways to brighten our lives!     
Angela… the First Friendly face you see as you visit our bustling office. She seamlessly answers the phones while working hard to match clients with the perfect caregiver.  Angela had a special surprise in store when our caregivers picked up their checks these last couple of weeks…while juggling the phones she baked cookies to have fresh when they arrived.
Candace … one of our dedicated Field Techs, she goes wherever she is needed, sometimes with very little notice, working with our caregivers and our clients to ensure great service.
Courtney….our Care manager, completing and reviewing assessments, determining what skills are needed for our Caregivers to provide exemplary care to our clients.  She decorated our Christmas Cactus plants that were delivered to many of the people who refer to us.
Darcie …. our Devoted HR Director.  She is dedicated to keeping the business side of things running smoothly and is always looking for more efficient ways to do things.  She is ALWAYS available to her staff, day or night, to help where she can.
Diana …  also one of our Field Techs, she is frequently out and about, seeing what she can do to help our caregivers in the field, and to ensure our clients are receiving the services they need.  She brightened one of our client's holiday, by fostering her pup while she was recuperating away from home.
Erica … our Office Manager…she handles our billing, receivables, and many other office tasks. She is full of energy.  Erica surprised us all when we came into our offices a couple of weeks ago to find this little elf had snuck in over the weekend to bring the Holiday Spirit to 240 Williams Street with decorations everywhere
Jan…. our Community Relations Manager, successfully covering Rhode Island and Southeastern Connecticut as she tells the community about all the many services we offer to the elders in our community.  
Rosemary…. our Recruiter, out in the community working hard to find the best caregivers and CNA's to join our amazing team
Sarah….also a field tech who works with Angela on scheduling, as well as doing spot checks and filling in with clients.  
Deb…is behind the scenes, managing payroll and financial projects.
Jodi…. the newest addition to our Team as our Project Coordinator.  She will be organizing and developing all of our social media, analyzing new software as we put new  things in place.
Thank you to these AMAZING LADIES, who give so much of themselves every day!  We are proud to call them FAMILY!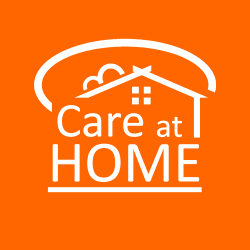 Latest posts by Care at Home
(see all)