Tips for Taking Care of Loved Ones with Dementia
Do you take care of a friend or loved one affected by some form of Dementia? Do you find it increasingly difficult to engage with them and hold their interest? Caring for and spending time with an adult affected by dementia can be very overwhelming and trying whether you are a seasoned caregiver, or you're just beginning the journey with a family member. "What can I do with them?" "What if they don't remember me?" or "What do I say?" can be just a few of the questions running through your mind, and that is completely normal. Dementia does not affect just the individual diagnosed; it affects everyone around them as well. Here are some things you can do to help your loved one engage more and have fun.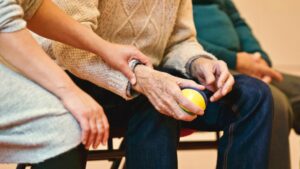 Music
Do a little homework and find out what songs were popular in their childhood, teenage and young adult years. Music can shift moods and unlock parts of the past. Maybe "Singing in the Rain" by Gene Kelly is something that reminds them of playing outside with siblings or cousins in the rain, or "You are my Sunshine" by Jimmie Davis may be something one of their relatives sang to them while spending time together. Even if the song doesn't have a specific memory attached, a catchy tune can get toes tapping and heads bobbing at any age.
Get Outside
Fresh air and sunshine can help improve one's mood as well. Maybe take a stroll through the neighborhood or outside the facility. There are many parks and beaches here in Southeastern Connecticut that have paved walkways or boardwalks. Five parks in Connecticut offer the use of beach wheelchairs free of charge on a first-come/first-served basis to help get closer to the beach or even right in the water!
Maybe your friend or loved one would benefit from taking a ride in the car. Take a drive around places they have spent time at like an old neighborhood or school that they went to. Talk about different stores and businesses that were around at the time. Maybe they remember the drug store being where the coffee shop is now that used to sell penny candy to the neighborhood kids.
Keep a journal
Have a place to write down the things you notice. It may seem like a bit much, but it will help you figure out what type of activities they may be more receptive to. Start each entry with the date and time so you can better see different patterns in their routine. Doing this will help you establish what type of activities your loved one may enjoy, and what time of day they like to participate.
Caring for a friend or family member with dementia is very difficult. It requires a great deal of understanding and patience. With a little preparation, you will find there are many options to keep your friend or loved one engaged and enjoying this difficult phase in their life.
Do you have a loved one with Dementia that can benefit from home care services? We can help.