Tips for Preventing Telephone Scams
Sometimes it seems like every time the telephone rings, it's someone trying to trick you out of your hard-earned money. They tell you your computer has a virus and they need to remotely access it to fix the problem. Or, they say they're from the IRS and you owe back taxes. And, sometimes, they even pretend to be a family member stranded someplace far from home.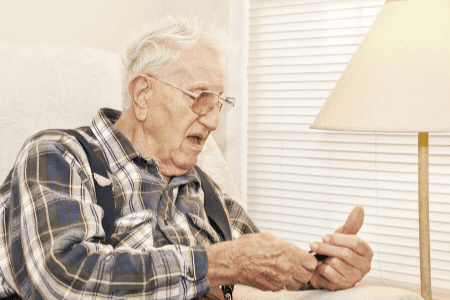 If you're getting calls like this, you can bet that your aging relative is, too. In fact, according to the Federal Bureau of Investigation (FBI), older adults are a favorite target of scammers because they often have money saved up and were raised in a time when people were more trusting. Though your aging relative may be targeted, you can help protect them from being a victim of telephone scams.
Here are some tips:
Talk About Phone Scams
When you learn of a new telephone scam, tell your older family member about it. Knowing what kinds of calls they should watch for can help them to avoid them. When they know, for example, that someone claiming they are from the IRS is really a scam artist, they'll know to hang up without giving out any personal information.
Report Suspicious Phone Calls
When you receive suspicious phone calls, report them. This can help to stop scams, so you'll not only be protecting your loved one but countless other people as well. You can report phone scams to the Federal Trade Commission at 1-877-382-4357. You can also tell the Do Not Call Registry about unwanted telemarketing calls and robocalls. Finally, report caller ID spoofing (misrepresentation of who the call is from using caller ID) to the Federal Communications Commission at 1-888-225-5322, or online.
Avoid Paying for Promises
Talk to your aging relative about sending money for a promised good or service. Remind them that they should never have to pay upfront for taxes or fees before receiving a prize. They also should not have to pay in advance for loan offers or debt relief.
Just Hang Up
Instruct seniors to hang up on robocalls and other phone scams. They should not press a button to speak to a live person or be taken off the calling list. The result is usually more calls because the scammers know they've reached a valid number. It also doesn't do much good to argue with scammers on the phone. They're already doing something illegal, so they probably don't care how you feel about it. Plus, there's a chance that the longer the scammer talks they might convince the senior that they are from a legitimate company.
Get Help from Senior Care
Senior care can help older adults to avoid telephone scams by fielding phone calls for them. They can also tell seniors about new scams they learn of. Some older adults with cognitive deficits may make poor judgments. Senior care providers can keep an eye on them to make sure they don't make any costly mistakes.
If you or an aging loved-one are considering hiring A Caregiver in Ledyard, CT, for companionship, transportation, or other elder care issues, please contact the caring staff at Care at Home – serving Connecticut and Rhode Island.
Call CT: (860) 333-6025 or RI: (401) 622-4444.
Sources
Usa.gov
Consumer.ftc.gov
Consumer.ftc.gov2

Suzanne was born in Southington, Connecticut and currently resides with her husband and two Shih Tzu's in New London, Connecticut. In 2010, she started Care At Home, a non-medical home care company that assists seniors to remain in the safety and comfort of their own home.Care At Home has grown significantly in just a few years and now employs over 90 people.As a former engaged life director at a national assisted care facility for seniors, and as a Conservator for the State of Connecticut, she quickly learned that she loved caring for her seniors (my "Peeps").They brought as much joy into her life as she did to theirs. In the Fall of 2016, Suzanne was instrumental in creating the Southeast Senior Network which consists of over 50 professionals in the senior care industry.As a member of the Leadership Team, Suzanne conducts the monthly meetings at various locations throughout Southeastern Connecticut. Her experience as a Conservator for the Probate Courts has lead her to meet and work with various organizations and discover resources as she helps many people in different stages of their life. All of her experience has lead her to a point in life in which she understands what seniors need, and how she can maintain or increase their quality of life.All of this has earned her the reputation of being referred to as the "Senior Whisperer".
Latest posts by Suzanne Karp, Founder (see all)