Heading for Surgery? Let Elder Care Aides Help With Post-Op Care
When a surgery, treatment or procedure is on the horizon for an elderly relative, family caregivers are usually focused on pre-operative plans. They may not have much thought about the post-operative needs of their aging relative. From simple outpatient surgeries to extensive operations with long recovery times, an elderly adult is going to need some help in the weeks following the surgery. Many family caregivers are turning to elder care agencies to provide assistance during recovery.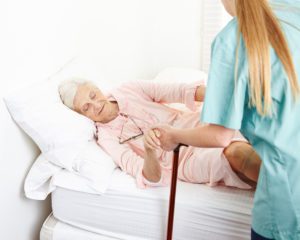 Why Elderly Adults Need Post-Surgery Help
Many elderly adults need some type of surgery, from simple procedures like cataract surgery to major undertakings like a hip replacement. When an elderly person is already relying on friends and family members for some of their daily care needs, a post-surgery environment will require even more help. Even seniors that are fairly self-reliant will not be able to do as much as they are used to after a surgery.
The post-op care for an elderly person will depend entirely on the type of surgery and the patient's condition. They may only need some help with meals and shopping, or they could require complete help with personal care like getting to the toilet or bathing. Family caregivers can only do so much, but there are times when elderly adults need more time and attention than they can give. That's why an elder care assistant is so valuable to seniors as they face the days and weeks of recovery after surgery.
How Elder Care Aides Help With Recovery
-Elderly care aides are trained to help elderly adults with whatever they need. If it's something that the senior cannot do alone, the aide will step in and help. This includes any tasks that are necessary after a recent surgery. For example, The first few days are especially important when it comes to pain management. An elder care assistant can ensure the elderly patient remembers to take their medication and they can also assist in essential care duties like going to the restroom, changing their clothes, and fixing meals.

-As days turn into weeks, the elderly adult usually looks toward healing and perhaps some light physical therapy exercises or stretches as recommended by the doctor. When a professional is attending to the patient, they can ensure the elderly person does everything according to the doctor's orders. Above all, an elder care assistant can be an observer as to how the elderly person is handling the recovery and inform family members of anything that may be going wrong. Signs of infection, lethargy, mental illness and other problems are common in a post-surgery setting with elderly adults. The elder care assistant can inform family members right away if anything is not right.
-It's never easy for someone to recover from surgery on their own. It's even harder for elderly adults who don't heal as quickly as younger adults. Because they may struggle with other physical or mental health issues beyond the surgery, they will definitely benefit from having an elder care assistant with them in the recovery time after their surgery.
Care at Home – serving New London, Connecticut, Westerly, Rhode Island
and the surrounding areas…
Call CT: (860) 333-6025 RI (401) 622-4444.
Source:
https://www.ncbi.nlm.nih.gov/pmc/articles/PMC3073675/

Suzanne was born in Southington, Connecticut and currently resides with her husband and two Shih Tzu's in New London, Connecticut. In 2010, she started Care At Home, a non-medical home care company that assists seniors to remain in the safety and comfort of their own home.Care At Home has grown significantly in just a few years and now employs over 90 people.As a former engaged life director at a national assisted care facility for seniors, and as a Conservator for the State of Connecticut, she quickly learned that she loved caring for her seniors (my "Peeps").They brought as much joy into her life as she did to theirs. In the Fall of 2016, Suzanne was instrumental in creating the Southeast Senior Network which consists of over 50 professionals in the senior care industry.As a member of the Leadership Team, Suzanne conducts the monthly meetings at various locations throughout Southeastern Connecticut. Her experience as a Conservator for the Probate Courts has lead her to meet and work with various organizations and discover resources as she helps many people in different stages of their life. All of her experience has lead her to a point in life in which she understands what seniors need, and how she can maintain or increase their quality of life.All of this has earned her the reputation of being referred to as the "Senior Whisperer".
Latest posts by Suzanne Karp, Founder (see all)