Care At Home hosted the WCERG meeting on Tuesday April 10, 2018!
Care At Home hosted the WCERG meeting on Tuesday April 10, 2018 since officially opening our office in Westerly, RI. We made a lot of new contacts in the area and look forward to helping make positive changes to the elder care community in Westerly as well as the surrounding area. We thank everyone who joined us and look forward to working closely with all of you.
A very special thank you to Kerin Da Cruz, COO of Westerly Hospital for taking the time to speak to all of us about the big things that are happening at Westerly Hospital.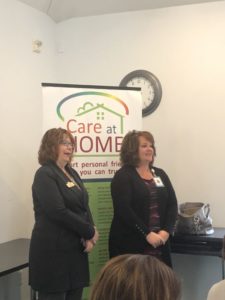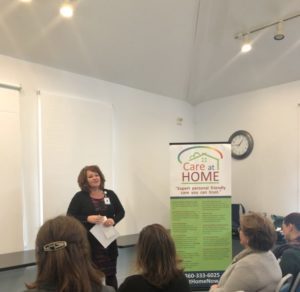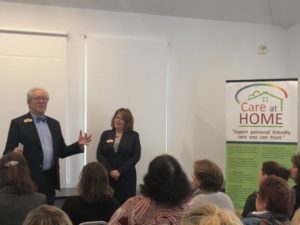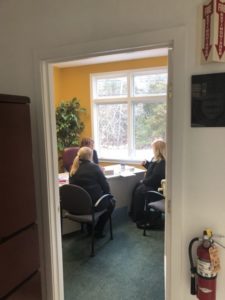 Suzanne was born in Southington, Connecticut and currently resides with her husband and two Shih Tzu's in New London, Connecticut. In 2010, she started Care At Home, a non-medical home care company that assists seniors to remain in the safety and comfort of their own home.Care At Home has grown significantly in just a few years and now employs over 90 people.As a former engaged life director at a national assisted care facility for seniors, and as a Conservator for the State of Connecticut, she quickly learned that she loved caring for her seniors (my "Peeps").They brought as much joy into her life as she did to theirs. In the Fall of 2016, Suzanne was instrumental in creating the Southeast Senior Network which consists of over 50 professionals in the senior care industry.As a member of the Leadership Team, Suzanne conducts the monthly meetings at various locations throughout Southeastern Connecticut. Her experience as a Conservator for the Probate Courts has lead her to meet and work with various organizations and discover resources as she helps many people in different stages of their life. All of her experience has lead her to a point in life in which she understands what seniors need, and how she can maintain or increase their quality of life.All of this has earned her the reputation of being referred to as the "Senior Whisperer".
Latest posts by Suzanne Karp, Founder (see all)