No, It's Not Uncaring to Hire Outside Home Care for an Aging Parent
After years of your parents caring for you, is it uncaring to hire home care services for them? After their mom was diagnosed with Alzheimer's, a group of siblings sat down to have a conversation about home care services and assisted living. They lived in different towns and knew the day would come that their mom would not be safe living at home.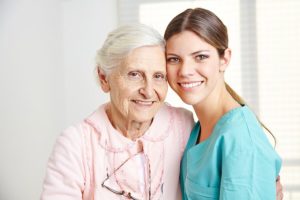 Things heated up when one sibling said he'd rather live out of a car with his mom than agree to have a stranger provide her care. All siblings had families and full-time jobs. None of them were in a good position to quit their job and become full-time caregivers. The sibling continued to argue that they were all uncaring individuals to even think that home care or assisted living was best.

It's Never Uncaring to Hire Someone Outside of the Family
This is a situation that many family members face. You want what's best for your parent. You're not sure you can provide the services your mom or dad needs. The bottom line is that hiring an outside caregiver is never a sign that you don't care. In fact, it's one of the most caring steps you can take.
Many seniors feel that care from an adult child is embarrassing. They don't like their child seeing them naked in the bath or shower. They don't want their child wiping them after using the toilet. They don't want to be a burden in any way. A professional caregiver is often welcomed by a senior who needs help with activities of daily living.
Finding the Right Caregiver
-While you shouldn't rush right out and hire the first caregiver you find, a caregiver can become your mom's friend and confidant. The right caregiver will treat her like family and know how to let your mom remain independent without ever feeling alone.
-You should take time to interview caregivers. Invite your mom to ask her own questions. You want a caregiver who interacts well with your mom. If your mom is comfortable and gets along with the person, a stronger relationship will form.
-Using an agency helps you narrow down the services and schedule that best meets your mom's needs. Plus, if her usual caregiver is sick, a replacement could be sent to prevent you from having to take a day off.
-Call an agency to ask about home care services and rates. They can set you up to talk to caregivers and see what schedule best suits your mom.
Care at Home – serving New London, Connecticut, Westerly, Rhode Island
and the surrounding areas…
Call CT: (860) 333-68025 RI (401) 622-4444.

Suzanne was born in Southington, Connecticut and currently resides with her husband and two Shih Tzu's in New London, Connecticut. In 2010, she started Care At Home, a non-medical home care company that assists seniors to remain in the safety and comfort of their own home.Care At Home has grown significantly in just a few years and now employs over 90 people.As a former engaged life director at a national assisted care facility for seniors, and as a Conservator for the State of Connecticut, she quickly learned that she loved caring for her seniors (my "Peeps").They brought as much joy into her life as she did to theirs. In the Fall of 2016, Suzanne was instrumental in creating the Southeast Senior Network which consists of over 50 professionals in the senior care industry.As a member of the Leadership Team, Suzanne conducts the monthly meetings at various locations throughout Southeastern Connecticut. Her experience as a Conservator for the Probate Courts has lead her to meet and work with various organizations and discover resources as she helps many people in different stages of their life. All of her experience has lead her to a point in life in which she understands what seniors need, and how she can maintain or increase their quality of life.All of this has earned her the reputation of being referred to as the "Senior Whisperer".
Latest posts by Suzanne Karp, Founder (see all)