Boost Self-Esteem in Seniors With National Wheelchair Beautification Month
All too often, physical disabilities discourage elderly adults from participating in community activities. Chronic diseases, injuries, surgeries and even just problems with old age can leave seniors needing a wheelchair to get around. Often, they must turn to family caregivers and home care providers to help them with daily tasks. All this can be really hard on an elderly person's self-esteem.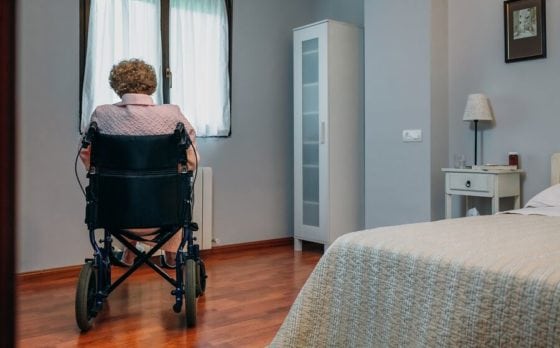 What is National Wheelchair Beautification Month?
Participating in National Wheelchair Beautification Month in July can be a fun and creative way for elderly people in wheelchairs to be more accepting of their situation, meet other people in wheelchairs and have some fun. It was begun as a way for people young and old who rely on wheelchairs to express themselves creatively and take pride in their conditions instead of feeling embarrassed or ashamed.
Many organizations, such as libraries, churches, hospitals and senior citizen centers host National Wheelchair Beautification Month contests and parades. Some communities include wheelchair entries in their Independence Day parades. With the support of the entire community, it is encouraging to an elderly adult to get involved and boost their self-esteem.
Wheelchair Decoration Ideas
Decorating a wheelchair can be a fun and creative project for the whole family. Seniors can get their family caregiver involved, as well as grandkids and other family members. Many elderly adults choose a specific theme for their wheelchair decorations and they can be as simple or as complex as everyone can handle.
Some common themes for wheelchair decorations include fairy tales, superheroes, Hawaiian vacation, outer space, police cars, fire trucks and zombie/Halloween. Other ideas include storybook characters, nature, sports teams, patriotic, celebrities and beach party. The internet has plenty of resources that elderly adults can gain inspiration from. It's a delightful way to put an elderly person and their wheelchair in the spotlight for much welcomed positive feedback.
Wheelchair Beautification Boosts Self-Esteem
Self-esteem describes how a person sees themselves and whether they like what they see. As people age, they tend to have a more negative view of themselves. Because age takes a toll on the body and can rob seniors of their mobility and independence, they may start to struggle with their self-worth. Wheelchair beautification really does help seniors accept their disability and gives them a chance to interact with others in the same situation.
A healthy self-esteem is important for seniors with disabilities because often they feel like others are seeing their health issues before seeing their real personality inside their aging body. Wheelchair beautification gives them an opportunity to present who they really are to the world and therefore see themselves in a better light. Even if elderly adults don't participate in a decoration contest for National Wheelchair Beautification Month, they and their family caregivers can take steps to make their wheelchair a colorful, vibrant and unique display of their personality for all to see.
Care at Home – serving New London, Connecticut, Westerly, Rhode Island
and the surrounding areas…
Call CT: (860) 333-68025 RI (401) 622-4444.

Suzanne was born in Southington, Connecticut and currently resides with her husband and two Shih Tzu's in New London, Connecticut. In 2010, she started Care At Home, a non-medical home care company that assists seniors to remain in the safety and comfort of their own home.Care At Home has grown significantly in just a few years and now employs over 90 people.As a former engaged life director at a national assisted care facility for seniors, and as a Conservator for the State of Connecticut, she quickly learned that she loved caring for her seniors (my "Peeps").They brought as much joy into her life as she did to theirs. In the Fall of 2016, Suzanne was instrumental in creating the Southeast Senior Network which consists of over 50 professionals in the senior care industry.As a member of the Leadership Team, Suzanne conducts the monthly meetings at various locations throughout Southeastern Connecticut. Her experience as a Conservator for the Probate Courts has lead her to meet and work with various organizations and discover resources as she helps many people in different stages of their life. All of her experience has lead her to a point in life in which she understands what seniors need, and how she can maintain or increase their quality of life.All of this has earned her the reputation of being referred to as the "Senior Whisperer".
Latest posts by Suzanne Karp, Founder (see all)