What is Respite Care, and Why it is Important
Are you taking care of your mom, dad, spouse or other elderly relative? Do you ever get tired and just need a break? Do you have a business trip you need to take? Are you due to take your children away for a vacation?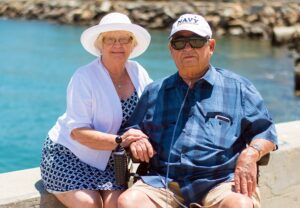 Do any of these scenarios cause you concern? How will I make sure all my responsibilities are taken care of? How will mom keep eating right? Who will remind dad to take his medications? Who will take my spouse to that doctor's appointment we scheduled?
The simplest solution is respite care from Care at Home! Respite Care is exactly what it sounds like. Care provided to give the primary caregiver a break. It allows you, the caregiver to take a well-deserved break and come back rejuvenated to continue caring for mom, dad, or your spouse.
Care at Home will have someone meet with you, review options for respite care, review mom or dad's normal routine, and help you determine how we can help. We can provide care  a few hours during the day, overnight, so you can sleep, or we can have someone there 24/7 if you need to go away. Respite Care is meant to be short-term, so you can enjoy a vacation, or just get some rest.
The Care at Home staff will work with you to match the right caregiver to help your loved one. They are all dedicated to providing you with peace of mind while you are away. Our caregivers will help your loved one with getting dressed, personal hygiene, medication reminders, bring them to a doctor's appointment, cook meals, and even light housekeeping. They will care for your loved one as if they were a family member.
As a  family caregiver, you need to make sure to take care of yourself, as well as your loved one. It can be physically and emotionally exhausting to be the primary caregiver. Taking care of yourself and giving yourself a chance to rejuvenate is critically important to be able to continue to give the attention you need to your loved one.
If you need a break, or want to take a vacation, please give us a call and see how we can help!

Suzanne was born in Southington, Connecticut and currently resides with her husband and two Shih Tzu's in New London, Connecticut. In 2010, she started Care At Home, a non-medical home care company that assists seniors to remain in the safety and comfort of their own home.Care At Home has grown significantly in just a few years and now employs over 90 people.As a former engaged life director at a national assisted care facility for seniors, and as a Conservator for the State of Connecticut, she quickly learned that she loved caring for her seniors (my "Peeps").They brought as much joy into her life as she did to theirs. In the Fall of 2016, Suzanne was instrumental in creating the Southeast Senior Network which consists of over 50 professionals in the senior care industry.As a member of the Leadership Team, Suzanne conducts the monthly meetings at various locations throughout Southeastern Connecticut. Her experience as a Conservator for the Probate Courts has lead her to meet and work with various organizations and discover resources as she helps many people in different stages of their life. All of her experience has lead her to a point in life in which she understands what seniors need, and how she can maintain or increase their quality of life.All of this has earned her the reputation of being referred to as the "Senior Whisperer".
Latest posts by Suzanne Karp, Founder (see all)